Every week, Hoops Rumors takes a closer look at players who will be free agents or could become free agents next offseason. We examine if their stock is rising or falling due to performance and other factors. This week, we take a look at players from the Southeast Division: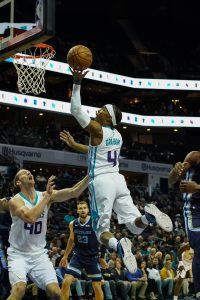 Devonte' Graham, Hornets, 24, PG (Up) – Signed to a three-year, $4MM deal in 2018
The Hornets have until July 7th to decide whether to guarantee Graham's $1,663,861 for next season. Safe to say, that decision has already been made. In terms of salary vs. production, Graham might be the biggest bargain in the league this season. Making just over $1.4MM, Graham leads the team in scoring at 18.0 PPG and 7.3 APG while coming off the bench in all but one game. The Kansas product appeared in 46 games last season, averaging 4.7 PPG in 14.7 MPG. With Kemba Walker bolting to Boston, Graham has blossomed in an expanded role.
Goran Dragic, Heat, 33, PG (Up) – Signed to a five-year, $85MM deal in 2015
Dragic played in just 36 games last season due to right knee surgery. Dragic, now 33, has been a starter most of his career and had to adjust to a second-unit role this season. Thus far, he's been healthy and productive. He's averaging 16.1 PPG and 5.1 APG in 28.4 MPG while making just 1.8 TPG. Dragic's $19.2MM expiring contract is a tradeable asset if the Heat decide to shed salary. For now, Dragic is a valuable part of an improved team that should make the playoffs out of arguably the weakest division in the NBA.
Evan Fournier, Magic, 27, SG (Up) – Signed to a five-year, $85MM deal in 2016
Following a couple of sluggish outings against Oklahoma City and Dallas in which he shot 3-for-12 from the field, Fournier has put together a nice three-game stretch. He's averaged 18.0 PPG and 5.0 APG during that span while knocking down nine 3-pointers and committing just four turnovers. Orlando won two of those games. The team's second-leading scorer has a $17.15MM option on his contract for next season. In a very weak free agent market, Fournier has plenty of incentive to decline that option in order to secure another long-term deal.
Evan Turner, Hawks, 31, SF (Down) – Signed to a four-year, $70MM deal in 2016
A rotation piece for a playoff team in recent seasons, Turner was swapped by the Trail Blazers for Kent Bazemore during the offseason. Turner was expected to provide veteran stability to a mostly inexperienced unit in Atlanta. But he only averaged 11.3 MPG during the Hawks' first three games before being sidelined by Achilles soreness. It's uncertain how much time Turner will require to recover from the injury. In the meantime, Atlanta has plenty of other options at the wing positions and the return of Allen Crabbe further clouds Turner's role whenever he's healthy enough to play.
Isaiah Thomas, Wizards, 30, PG (Up) – Signed to a one-year, $2.32MM deal in 2019
Thomas' latest attempt to revive his career seems to be working out. Since returning from a training camp injury, Thomas has jumped into the rotation and seen his playing time steadily increase. He's averaging 13.9 PPG and 6.3 APG while shooting 38.5 percent from long range in 24.1 MPG. Following a lost season in Denver, Thomas has at least reestablished himself as a rotation player. That's a heartwarming development for a popular player who was an MVP candidate just a few seasons ago in Boston.
Photo courtesy of USA Today Sports Images.