The Ravens and Lamar Jackson are still in active discussions about a contract extension, sources tell ESPN.com's Adam Schefter. However, no deal has materialized yet as Jackson remains focused on the season ahead.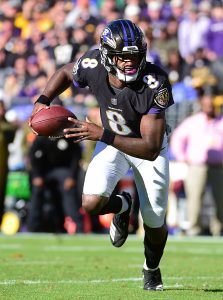 Jackson does not have an agent representing him, which probably isn't helping with the pace of negotiations. A deal could be struck during the season, Schefter hears, but that'll probably happen at a juncture when the quarterback can devote more attention to the talks. Baltimore's bye week falls on Week 8 this year, so we could see a deal come together in late October.
Bills QB Josh Allen has given the two sides a framework, at least. His six-year extension is worth $258MM with $150MM in overall guarantees and a record $100MM fully guaranteed at signing. Jackson could soon knock him off of his perch. For now, the 24-year-old superstar is due just $1.78MM in base salary this season.
Jackson has said he is not overly concerned if the extension becomes finalized this year or in 2022. Dak Prescott and Kirk Cousins played out their low-priced rookie deal fourth years, leading to franchise-tagged seasons. However, other young QBs like Russell Wilson and Ryan Tannehill (2015), Derek Carr(2017), Carson Wentz and Jared Goff (2019), Patrick Mahomes and Deshaun Watson (2020) opted against playing on their rookie pacts beyond Year 3.
Meanwhile, Jackson is all biz and focused on the task at hand. He'll look to start 2021 with a win against the Raiders later today.
Photo courtesy of USA Today Sports Images.