Shaun Wade has finally been selected. The standout Ohio State cornerback was selected by the Ravens at No. 160.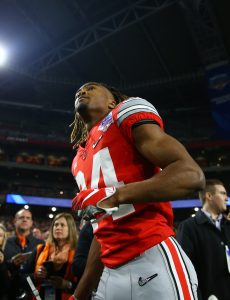 Wade had three productive seasons with the Buckeyes, including a 2020 campaign where he compiled 34 tackles, two interceptions, and four passes defended. This performance earned him a long list of accolades, including Tatum–Woodson Defensive Back of the Year. He was also a consensus All-American and first-team All-Big Ten selection.
While the defensive back was once considered to be a potential first-round pick, a tough performance in the national championship game ruined his draft stock. Specifically, Alabama wideout DeVonta Smith had 12 passes for 215 yards and three touchdowns … in just the first half. Wade also had an underwhelming pro day, which didn't endear himself to scouts.
"Had he come out last year, he probably would have been a first-round pick, at least in the conversation for a first-round pick," NFL Network's Ian Rapoport said earlier today. "He tried to do the right thing, went back to college, just a really brutal year. I talked to several scouts and evaluators about Wade. As one said, this year's film is really bad. The [pro day] workout is just okay. I know that the scouts on this evaluator's team just didn't really like him."