Alex Smith's long road back to a potential NFL comeback might not end up coming to fruition, but the Redskins quarterback considers himself "very much lucky to be alive" after the infection and numerous surgeries that became required on his broken leg.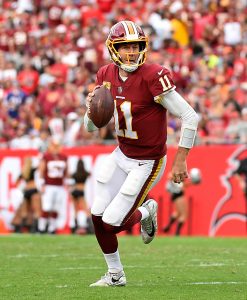 Information about Smith's surgery history has continued to trickle out over the past year and change, but the veteran passer revealed during an appearance on ESPN's Outside the Lines (via ESPN.com's Stephania Bell) he developed sepsis. The potentially life-threatening condition stemmed from the infection Smith encountered, and the possibility of leg amputation was very real following the November 2018 injury.
"[The] next thing I remember is waking up several weeks later faced with the decision of amputation or limb salvage at that point," Smith said during the interview of a choice presented to him weeks after the injury.
The former 49ers and Chiefs quarterback opted for numerous surgeries to save his injured leg. Smith suffered a compound right tibia fracture and a right fibula fracture. The most recent information indicated Smith underwent 17 operations on the leg since suffering the injuries during a Redskins-Texans game in November 2018.
Smith since overcame the infection and has made strides over the past 14 months. He remains interested in returning to action, and Ron Rivera brought up the injured passer's name unprompted during a recent interview.
"I also don't want to forget Alex Smith," Rivera said during an appearance on The Team 980's Doc & Galdi show. "Here's a guy that's doing everything he can to come back, and if Alex can come back and be the player that he was, we have a good situation; we [would] have competition at that position."
Smith, who will turn 36 in May, is on Washington's payroll at $21.4MM in 2020. His $16MM 2020 base salary is fully guaranteed. Dwayne Haskins remains expected to be the Redskins' Week 1 quarterback.
Photo courtesy of USA Today Sports Images.