The Redskins informed Trent Williams' agent that the left tackle passed all parts of his physical, Ian Rapoport of NFL.com (on Twitter) hears. However, Williams said that he was in pain (due to his surgery) after trying to put on his helmet, which the Redskins are considering as part of the physical.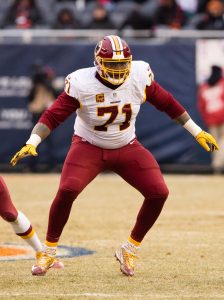 The Redskins are now on the clock with two weeks to find a helmet that doesn't hurt Williams. If they can't find a helmet that doesn't cause pain by the time his roster exemption expires, and he refuses to play, the team will be forced to put him on the NFI (non-football injury) list, at which point they can decide whether or not to continue paying him. In either case, as Rapoport reports, his contract will not toll, meaning that he won't be tethered to the Redskins beyond the 2020 season.
The Redskins did not move Williams before the 2019 deadline, but there are rumblings that they'll try to trade him this offseason. Despite the Redskins' lack of leverage in that scenario, Williams could still fetch a decent amount of draft capital: he's among the better tackles in the game and he'll have just one year left on his deal at $12.5MM.
Williams, a seven-time Pro Bowler, has missed 13 games over the last three seasons due to various injuries. He graded out as the league's best overall tackle in 2016, according to Pro Football Focus, and still managed to place No. 21 in a relatively down 2018.