Left tackle Trent Williams says there is no hope for reconciliation between him and the Redskins. In an interview with Mike Jones of USA Today, the veteran accused the team of showing no real compassion for his medical situation or wellbeing.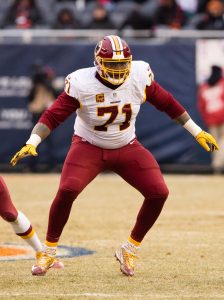 "I feel like everything has run its course," Williams said. "I mean, I do want to play football still and I'm not a free agent until after the 2020 season, so who knows. But the bridge has definitely been burned, and any efforts now, basically are, in my opinion, pretty much just CYA."
According to Williams, this is nothing new, nor is it exclusive to just him.
"Mine isn't the only situation they got wrong. There are a lot of situations they could have looked into. Why didn't they do it before now? Why didn't they do it in Colt McCoy's case? And they keep putting out these false reports. That's never helpful. I just feel like regardless of what the findings of the investigation are, they're going to try to find a way to paint me negatively and make themselves look better."
Williams' season is now over, after the Redskins placed him on the NFI list. He wants to resume playing, once he's healthy, but not in Washington.
Despite his frustrations, Williams did confirm that he approached the Redskins about a contract extension before the start of the season. However, with two years remaining on his contract, he was rebuffed.
"I knew I was coming up on a year with no guaranteed money, and I wanted to open the conversation about them making me a Redskin for the rest of my career," Williams said. "I understand that either a team wants the player and will extend him, or they'll send him somewhere so they can get some value for him. I told Bruce, 'I understand that we're in a rebuild and if you don't want to dump any more money in the O-line, I'd like to go somewhere that I'm wanted.' I still felt like I've got 5-6 more healthy years left of quality football."
Photo courtesy of USA Today Sports Images.