The Trent Williams story continues to get more complex by the hour, and we've got another batch of updates ready for you. Yesterday the Redskins placed Williams on the NFI list, ending his 2019 season. Early this morning Williams blasted the team and said there was no hope of reconciliation, and then just a few hours ago we heard Washington had decided not to pay the left tackle any of his salary for 2019.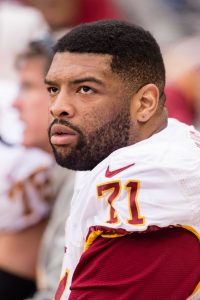 Williams spoke with Dan Graziano of ESPN.com earlier today, and said that he underwent three surgeries this offseason but felt "football-ready" by Week 2 (Twitter link). Williams again confirmed to Graziano that he wants to play next season, saying "It's what I do. I want to continue my Pro Bowl streak. I want to win a Super Bowl. I've got a lot of stuff I want to accomplish. I hate that I got derailed, but I'm blessed and I'm back. Looking for that helmet that can fit" (Twitter link).
When Williams ended his holdout and reported to the team, he said he couldn't wear his helmet because of pain from the surgery to remove a cancerous growth on his head. Finally, Graziano tweeted that Williams didn't sound too confident about winning a grievance to get some money back. Williams declined to say whether he'd be filing a grievance through the NFLPA but said "shoot, that's their discretion. Non-football Illness, you know, it's cancer, you can't say it's related to football. So I don't know how much argument we have."
However, Williams might have a case to make. He could argue that since Washington's medical staff failed to advise him to remove the growth on his head earlier, they are at fault. And it's possible the "failure to address the issue sooner makes the end result — Williams' current inability to wear a helmet — a football injury and not a non-football injury," writes Mike Florio of ProFootballTalk.com. That being said, Florio writes that one source told him it will still be an "uphill battle" for Williams to get his current situation classified as a football injury.
Williams says team doctors repeatedly told him the growth on his head was just a harmless cyst over the years, which obviously turned out not to be true. That sounds like it could be grounds for a malpractice lawsuit, as Florio writes in a separate article. Florio also argues that it would "make sense for the team to offer to terminate his contract in exchange for a full and complete waiver and release of any and all claims," since Williams has made it clear that he just wants to be released from his contract.
That could be the most sensible option for both sides, as Williams has made it clear he doesn't want to go through a whole investigation, one that he says the Redskins would use to smear him. This saga is far from over, and it looks like things could get ugly as Washington has made it clear they don't plan on budging anytime soon.
Photo courtesy of USA Today Sports Images.