The NFL Players Association has issued the following statement on Redskins left tackle Trent Williams (h/t Mike Florio of Pro Football Talk):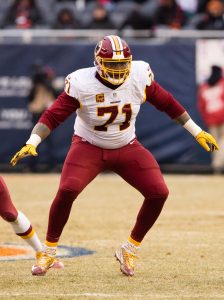 "In our multiple conversations with Trent and his agent, we have considered various options based on the facts, but we also understand that Trent wants to put this all behind him, not relive a painful experience when his life was in danger and move on with his career. We are also aware of misinformation being repeated on the NFL's own network that is not sourced and is only designed to tarnish Trent's reputation. Our union supports Trent, is protecting his rights and continues to consider potential action if a campaign against him continues."
Of course, this is in reference to the growth on Williams' head that turned out to be cancerous. As Florio notes, the "misinformation" that the union referred to in its statement is the report that Charley Casserly delivered on the NFL Network on Friday, when he said that the team told Williams to have the growth biopsied three years ago, but Williams failed to do so. Although the NFLPA is upset that the league's own network is relaying this allegedly inaccurate info, this is not the first time we have heard it. ESPN had a similar report (derived from team sources) back in July.
Nonetheless, it is coming to light again because Williams recently reported to the team to avoid having his contract toll. He failed his physical because putting on his helmet caused him pain as a result of the surgery to remove the growth, and the Redskins now have roughly two weeks to find a Williams a helmet that doesn't hurt him. If they can't, they may end up putting him on the non-football injury list for the remainder of the season.
The team has requested a third-party review of Williams' medical records in order to prove it did not act inappropriately with respect to Williams, and the league and the union are launching a joint investigation into Williams' claims to the contrary. Florio believes it will be difficult for Washington to escape blame, because even if it did tell Williams to have the growth examined, it should have pressed the issue, especially if the growth continued to expand. Florio says, "[a]bsent clear documentation that Williams was acting against clear and unmistakable medical advice, the mere fact that someone flagged the growth for further examination three years ago but that it was not biopsied for an extended period of time points to clear negligence." 
In any event, the relationship between player and team seems beyond repair. Assuming that Williams is able to comfortably wear a helmet at some point in the near future, the Redskins could explore trading him this offseason.
Photo courtesy of USA Today Sports Images.