The Redskins recently requested a joint review of left tackle Trent Williams' medical records, but that won't be happening. At Williams' request, the NFLPA will not cooperate with an investigation into Williams' health, as players union chief DeMaurice Smith told Junks Radio (Twitter link via Craig Hoffman of 106.7 The Fan).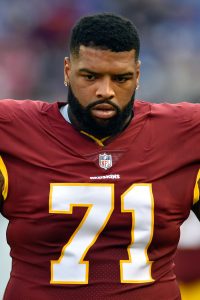 "Our union will continue to support Trent," Smith said in a statement. "Although he has asked us to not pursue a formal review of his treatment, we will consider all legal action if the affirmative disinformation campaign and the leaking of his private medical records does not stop. Doctors have an ethical obligation to treat our men as patients first regardless of where their check comes from. It is our job to ensure that they honor that duty and if we find that the have not, we must then hold the physician accountable to the CB and their medical licensing authority."
Williams first noticed the growth in 2013, but he says Redskins doctors told him the issue was not severe. However, he's since been diagnosed with Dermatofibrosarcoma Protuberans (DFSP), a "soft tissue sarcoma that develops in the deep layers of the skin." This offseason, the Redskins sent Williams to a hospital where the condition was finally recognized, and he had an operation during the winter to remove the growth.
As Mike Florio of Pro Football Talk notes, Williams doesn't have much of an incentive to agree to a joint review of his medical records. Even if the Redskins were found to be at fault, Washington would likely be only be fined for its actions. Additionally, once Williams' medical information is disclosed, there is a chance his records could be leaked.
Williams, of course, recently reported to the Redskins after sitting out most of the season. He didn't pass his physical after reporting pain due to his helmet, and Washington is now searching for a more comfortable helmet. If the club can't provide Williams with suitable head gear, he may be placed on the non-football injury list, ending his 2019 season before it begins.
Photo courtesy of USA Today Sports Images.