The Redskins have formally activated running back Derrius Guice from injured reserve, the club announced today. The move had been fully expected after Washington waived fellow running back Craig Reynolds earlier this week in order to open a roster spot for Guice.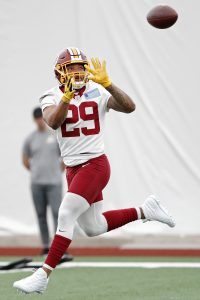 Injuries have defined the early portion of Guice's NFL career after the Redskins selected him with the 49th overall selection in the 2018 draft. Expected to serve as Washington's bellcow during his rookie campaign, Guice suffered a torn ACL in May, ending his year before it began. The LSU product made his Redskins debut in Week 1 of the 2019 season, but tore his meniscus and was subsequently placed on injured reserve.
Like all players designated to return from IR, Guice was required to miss at least eight games. He returned to practice in late October, opening a three-week window during which Washington needed to either add him to the 53-man roster or keep him on injured reserve for the rest of the season. Guice will officially return to action when the Redskins return from their bye to play the Jets in Week 11.
With Guice sidelined, veteran Adrian Peterson has taken over as Washington's starting running back, averaging 19 carries for 96 yards over the club's last four games. Guice will surely take over some of that workload, but it's unclear just how involved he'll be in the Redskins offense, at least initially.