Better late than never. The Redskins are now open to trading Trent Williams, Ian Rapoport of NFL.com (on Twitter) hears. The asking price: a first-round pick, according to Albert Breer of SI.com (on Twitter).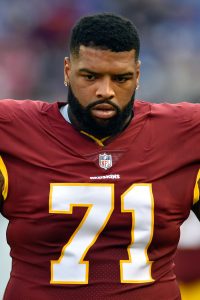 Williams has been vocal about his desire to get out of D.C. since the offseason, but the Redskins refused to deal him. Now, with 24 hours to go before the trade deadline, they're at least listening to offers. They've begun the process of looking at potential suitors, Rapoport hears, which means that a deal could come together before the buzzer.
Washington has informed teams it has a second-rounder on the table from an unknown team, Tom Pelissero of NFL.com tweets. With the team moving off its stance of trading Williams in the offseason at the 11th hour, it certainly seems like the 10th-year blocker will have a new home soon.
The Redskins' asking price is currently unknown, but they could probably command a decent return given the dearth of quality tackles across the league. If Williams is healthy, he'd automatically represent a colossal upgrade to any front five in the NFL.
The Browns' pursuit of Williams has been well-documented and they would be a logical partner for Bruce Allen & Co. The Patriots would also make ample sense, though they recently gave up a second-round pick for wide receiver Mohamed Sanu. It's not clear whether the Pats would be willing to cough up more to land Williams, but it stands to reason that they'll at least consider it.
Williams, for his part, is planning to show up for work by Week 10 in order for 2019 to count as an accrued season. Whether he's healthy enough to play by then is a separate matter.
Photo courtesy of USA Today Sports Images.