The Redskins have placed offensive tackle Trent Williams on the non-football injury list, the club announced today. Now that he's on NFI, Williams is out for the rest of the season.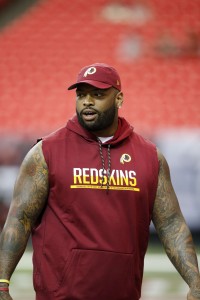 Williams reported to Washington in late October following a season-long holdout, but he couldn't pass his physical after reporting pain while wearing his helmet. The Redskins were reportedly attempting to find Williams a more comfortable helmet, but were apparently unable to do so.
Of course, Williams' issues with his helmet involves a serious backstory. Williams underwent surgery during the offseason to remove a growth from his head that turned out to be cancerous. The 31-year-old first noticed the growth in 2013, but he says Redskins doctors told him the issue was not severe. However, he's since been diagnosed with Dermatofibrosarcoma Protuberans (DFSP), a "soft tissue sarcoma that develops in the deep layers of the skin."
Williams' contract is not expected to toll as a result of his being placed on NFI, meaning he'll be under contract for one more season at a base salary of $12.5MM. The Redskins failed to trade Williams in advance of last month's deadline, but could reportedly consider moving him in a deal this offseason.
Players on the NFI list aren't technically required to be paid by their clubs. If Washington opts not to pay Williams, the veteran tackle would likely file a grievance against the team, tweets Dan Graziano of ESPN.com, opening an entirely new battle between the Redskins and their offensive line stalwart.
Photo courtesy of USA Today Sports Images.