The Trent Williams saga has taken another turn. Earlier today, Williams told Les Carpenter of the Washington Post that the growth on his head had turned out to be a cancerous tumor, and blamed the Redskins for not recognizing the seriousness of the issue sooner. Now, Washington has issued a press release indicating it wants a third-party review of Williams' medical records, ostensibly to remove any blame placed on the Redskins.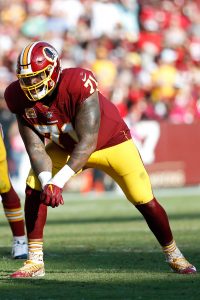 "The Washington Redskins have requested that the NFL's Management Council convene a joint committee with the NFLPA to review the medical records and the medical are given to Trent Williams. We have requested this review under the NFL's Collective Bargaining Agreement that provides for an independent third-party review of any NFL player's medical care. The Redskins continue to prioritize the health and well-being of our players and staff."
Williams first noticed the growth in 2013, but he says Redskins doctors told him the issue was not severe. However, he's since been diagnosed with Dermatofibrosarcoma Protuberans (DFSP), a "soft tissue sarcoma that develops in the deep layers of the skin." This offseason, the Redskins sent Williams to a hospital where the condition was finally recognized, and he had an operation during the winter to remove the growth.
The most pressing issue here is clearly Williams' long-term health, but it's difficult to avoid how Williams' latest revelation — and the Redskins' response — will further fracture the relationship between team and player. Washington failed to trade Williams before Tuesday's deadline, and the veteran offensive tackle subsequently reported to the club. However, he failed his physical after his helmet gave him discomfort. If the Redskins can't find Williams a helmet in the next two weeks, he's likely to be placed on the non-football injury list, ending his season.
Photo courtesy of USA Today Sports Images.