On this date in 2018, the Chiefs traded Alex Smith to the Redskins in blockbuster move that had wide-ranging implications across the entire NFL. The deal brought the Redskins a proven quarterback who was coming off of, arguably, the best season of his career. For the Chiefs, the trade gave them a 2018 third-round draft pick, a promising young cornerback in Kendall Fuller, and a clear path to elevate Patrick Mahomes to the starting lineup.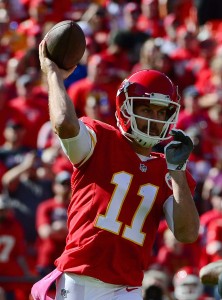 Even as Smith led the league in passer rating (104.7) and finished third in adjusted net yards per attempt, the football world was buzzing about the potential of Mahomes. The Chiefs didn't see much of the youngster in live action, outside of some time in the meaningless 2017 regular season finale, but they saw enough of him on the practice field to know that he was special and that he was ready. Smith, meanwhile, had one year remaining on his deal. The Chiefs opted to turn his salary into draft capital, support for the secondary, and extra cash that they could spend elsewhere.
After Smith set career-highs in completion percentage (67.5), yards (4,042), and touchdowns (26), the Redskins saw him as a fitting replacement for Kirk Cousins, who was on his way out after years of friction and botched extension talks. The acquisition of Smith ruled out any possibility of a reconciliation and officially set Cousins on course for free agency, where he found a fully-guaranteed multi-year deal with the Vikings.
The Chiefs' side of the swap made total sense – they were parlaying their surplus into extra ammunition. For the Redskins, the deal raised some eyebrows. Even after Smith posted a career-low interception rate of 1%, many doubted that he would be an improvement over Cousins. Keeping Cousins would have been more costly in terms of guaranteed dollars (and would have required a whole lot of fence-mending), but there was plenty of cost that came with Smith – Fuller, valuable draft capital, and the four-year extension given to him the day after the trade. That deal, taking Smith through 2022, gave Smith $23.5MM per year, making him the sixth-highest paid QB in the NFL at the time of signing.
Two years later, it's hard to get a true read on the Redskins' end of this blockbuster deal. Smith led the club to a 6-3 start in his first season with the Redskins, but a gruesome leg injury in Week 11 changed everything. The compound and spiral fracture to his tibia and fibula required complicated surgery, and the post-surgery infection that he developed led to 17 more operations. Smith missed all of 2019 and no one knows when, or if, he'll return to football. For his part, Smith says he still wants to play.
"I still have dreams of getting back to where I was and getting back out there," Smith said in January. "This has been a crazy ride with a lot of unforeseen turns, but without a doubt, that's still my goal."
Smith, now 35, is set to count $21.4MM against the Redskins' cap this year. No cap savings can be gained by releasing him until 2021.
In Kansas City, Mahomes lit the NFL on fire, leading the league with 50 passing touchdowns against just 12 interceptions. He was unstoppable again in 2019 – even a fairly serious knee injury could only limit him for a few weeks. This week, he'll lead the Chiefs into the Super Bowl, where they'll aim for their first championship since 1970.