Trent Williams has reported to the Redskins, according to former teammate DeAngelo Hall (on Twitter). However, this doesn't mean that everything is a-OK in D.C.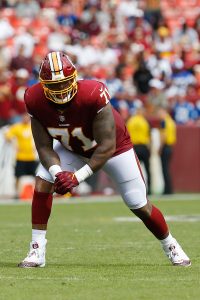 The Redskins refused to part with Williams before the trade deadline, unless they were presented with a Godfather offer. That offer never came, and Williams appears to be stuck with a franchise that he can no longer stand. At least, for the time being.
Williams' arrival doesn't mean that he'll take the field – the tackle might not be ready to play and, in any case, might not be willing to suit up for the Redskins. But, by showing up for work, Williams has ensured that his contract will not toll. He'll earn $5.8MM in base salary the rest of the way, plus ~$15K for each game he's active. After that, he'll have one year left on his contract, worth $12.5MM.
Williams, a seven-time Pro Bowler, has missed 13 games over the last three seasons due to various injuries. Still, he stands as one of the better left tackles in a league that doesn't have a whole lot of great tackles. Williams graded out as the league's best overall tackle in 2016, according to Pro Football Focus, and still managed to place No. 21 in a down 2018.
Photo courtesy of USA Today Sports Images.