Redskins tackle Trent Williams is tentatively planning to return to the team before Week 10, NFL.com's Ian Rapoport hears (on Twitter). Still, that doesn't mean Williams will play.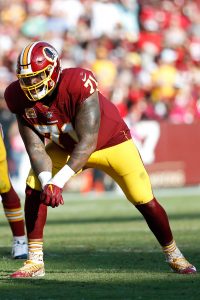 The Week 10 mark is significant, because Williams must show up for work by then in order to gain an accrued season. But, even if he walks through the doors in D.C., he won't necessarily walk straight on to the field. Williams still has to heal up and, given the recent ugliness, it seems unlikely that he'll play for the Redskins if he's less than 100%.
The trade deadline is on Tuesday, so the clock is ticking for the Redskins and Williams and the many teams that could use a protector of his caliber. Both publicly and privately, the team has said that Williams isn't going anywhere. Rapoport's understanding is that Williams will indeed be staying put, unless someone comes up with a Godfather offer.
The Browns want Williams, but they were turned down, just like the Patriots and others that have inquired on him. For now, Williams the seven-time Pro Bowler is under contract through next season with base salaries of $10.85MM for this year and $12.5MM in 2020.
Photo courtesy of USA Today Sports Images.