During a comedic segment on FOX Sports' pregame show earlier this afternoon, former Patriots tight end Rob Gronkowski said he had found a retirement crew to hang out with in Miami ahead of Super Bowl LIV. He introduced former Steelers and Patriots linebacker James Harrison, and then surprisingly introduced Redskins tight end Vernon Davis as another part of the group. "That's right. I'm retired," Davis said. NFL Network's Ian Rapoport confirmed his retirement shortly thereafter. Davis plans to pursue a career in acting following his retirement.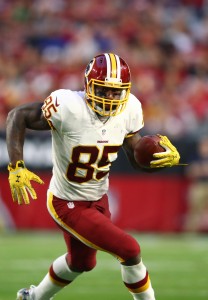 Davis' very successful career spanned 14 seasons, nearly 10 of which were spent with the 49ers. During that span, Davis recorded 441 catches for 5,640 yards and 55 touchdowns, which were all franchise highs for the tight end position. In total, Davis wraps up his NFL career with 583 receptions (ninth all time for a tight end) for 7,562 yards (10th all time for a tight end) and 63 touchdowns (sixth all time for a tight end).
The 49ers made it to the Super Bowl in 2013 when Davis was part of the team, ultimately losing to the Baltimore Ravens. Two years later, the 49ers traded Davis to the Denver Broncos, where he subsequently earned a championship ring in Super Bowl 50 defeating the Carolina Panthers. Davis then spent the last four seasons of his career with the Washington Redskins.
The former sixth overall draft pick of the 2006 NFL Draft played in only four games for Washington during the 2019 season before suffering a concussion that ultimately led to a spot on injured reserve. It was speculated that it was the fifth known concussion for Davis throughout his career. While with Washington, Davis proved to be a very serviceable tight end on the back end of his career, especially while filling in for the very talented, yet injury prone, Jordan Reed.