With the status of Tom Wilson still in question, the Washington Capitals have recalled a bit of size. Brett Leason is on his way up from the Hershey Bears, a meaningful recall, given the AHL team plays their own playoff game tomorrow night.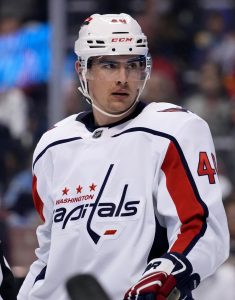 Leason, 23, played in 36 games this season for the Capitals, scoring three goals and adding six points. Perhaps more importantly, the winger stands 6'5″ and at least comes close to maintaining the level of physicality that Wilson brings every night. Selected in the second round just three years ago, Leason actually has three full seasons of professional experience already, and although still a rookie, is more seasoned than most.
Of course, Washington would certainly rather have Wilson in the lineup if possible. The team announced that he would be a game-time decision yesterday and are already carrying two extra forwards, but apparently needed an extra body as they head into game two with the Florida Panthers. After taking game one in stunning comeback fashion, Washington will have to continue to try and hold off the elite offense of the Panthers.
Photo courtesy of USA Today Sports Images