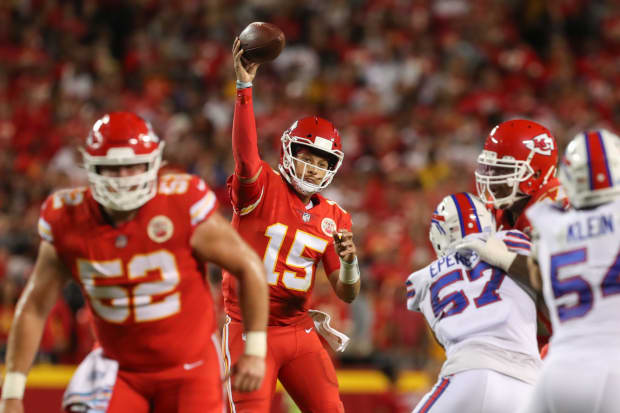 Tomorrow night, the NFL will unveil its entire 2022 regular season schedule, including every primetime contest.
It's no secret that the league tries to give more primetime opportunities to its better teams. That's the best way to draw in ratings, after all. 
We already know two primetime matchups, as the NFL previously revealed a Week 2 Monday Night Football doubleheader featuring Titans-Bills and Vikings-Eagles. As for the rest of the nighttime bookings, we'll know in about 26 hours.
NFL.com's panel of analysts was asked to come up with a list of teams most "deserving" of being showcased in primetime. Not surprisingly, they picked some of the projected top Super Bowl contenders.
Buffalo Bills
Tampa Bay Buccaneers
Kansas City Chiefs
Baltimore Ravens
Las Vegas Raiders
Seven analysts weighed in on this topic, with two of them each choosing the Bucs and Chiefs. Surprisingly, no one picked the Los Angeles Rams, the defending Super Bowl champions.
We know the Rams will open the season in primetime on Thursday Night Football. Their opponent has not leaked, but we won't have to wait long to find out officially anyway.